Before the dawn of time, before the schedule, before all films were announced, and before the days of True Horror, our demonic savior "Bonemask," the Wanderer of the Nighttime Woods, howled into creation the Patron of Horror Ticket package. Suitable only for the most fearless among you, your courage in the face of darkness will be rewarded with three exclusive items that will not be available later.
Year One was all about purple mystery, but Year Two is all red blood and pale bones! Each Patron of Horror 3-day Festival ticket package includes:
Sturdy, translucent H. A. C. (Horror Access Card) that grants access to all 3 days* of the festival, plus dark magic that opens a portal to the future (allowing you to enter the theater early all 3 days at designated times, before doors officially open to the public)
Exclusive "Bonemask" discharge T-shirt or Ladies Tee
Homemade wood amulet to ward off Evil with Evil, and to commemorate your commitment to our dark rites (or, at least to independent Horror films)!
A "thank you" in the program book and on-screen during the festivities, so that everyone knows you're a Patron!
A deep discount! Individually, we'd sell these items for $85, but your price for all this starts at only $70!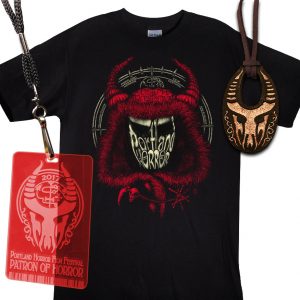 The Patron of Horror Ticket package is just that; it shows that you are a true Patron to the arts of Horror Cinema and support bringing independent horror films to beautiful (and spooky) Portland, Oregon! These packages are limited to only 100, and are only available until May 20th, before we've announced all the films (but check out the first wave of films that we have announced here – there are already films from Brazil, Iran, Turkey, Great Britain, and France, as well as the US and Canada) and before we've completed the final programming schedule. This helps us pay for upfront expenses, like the rent for the beautifully historic Hollywood Theatre, the production of program books, and other goods necessary to host a festival, as well as helping us plan for time, space, and personnel to make everything run smoothly, by giving us an early idea of how many people will be attending. You help with all of that, by purchasing a heavily discounted Patron of Horror package.
* Portland Horror Film Festival™ takes place at the Hollywood Theatre (4122 NE Sandy Blvd) on Thursday June 8 (7-11pm), Friday June 9 (7-11pm), and Saturday June 10 (1-5pm).