The 2017 Portland Horror Film Festival Awards were presented at the Wrap Party after the last screening of the festival on June 10th. Year 2 was an impressive lineup of short and feature films from all over the world, from every sub-genre, and picking the winners was a task our jury took very seriously.
Goule D'or (Director's Award): Lilith's Awakening – by Monica Demes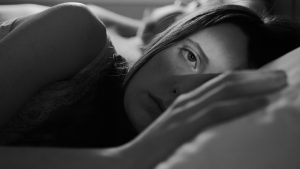 The Goule D'or is reserved for that one standout film that does everything right; script, direction, cinematography, acting, editing, sound design, and overall impact. Monica Demes's debut feature film embodies all this, and manages to capture everything we love best about the horror genre! With striking visuals that are at once lush and stark, skillful performances by Sophia Woodward and Brazilian pop-star Barbara Eugenia, this ravenous feature evokes both classic Universal horror films and the unsettling Weird of David Lynch's masterpieces. Be on the lookout for more from Demes and Woodward; they're ones to watch!
Official Website, or follow on Facebook.
Main De Gloire (Special Jury Award): Black Ring – by Hasan Can Dagli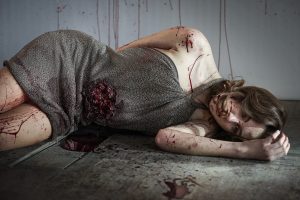 No dialogue is needed to convey the visceral message in "Black Ring," and the simple synopsis for this film belies the deeper commentary found in this short film by Turkish Director Hasan Can Dagli. A photo shoot in an abandoned castle seems like an opportunity for fame and wealth, but it becomes apparent that the subjects are little more than commodities for a larger, albeit gruesome, artistic endeavor. The viewer must take stock of their own consumption, and question the lengths to which they will go for their next shocking experience. Well crafted and resonant, this one stayed with us long after watching it.
Official Website, or follow on Facebook.
Bloody Judge Award (Guest Judge's Award): Elegy – by CJ Gardella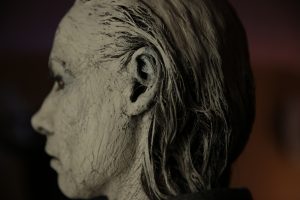 We aim for diversity both in our film offerings and in critical viewing. We asked Guest Judge Richard Stanley (Director of Hardware, Dust Devil) to weigh in and choose his favorite film. I think the one that rises to the top of the pack must be 'ELEGY'  …with its artsy Terence Malick style introspection. With intense and gorgeous close-up nature photography, lyrical transitions, and sound design, "Elegy" is an extremely accomplished experimental film. Gardella deftly weaves images together, creating an emotional and existential catharsis.
Official Website, or follow on Facebook.
Horde Award (Audience Choice Award): Happy Hunting – by Joe Dietsch and Louie Gibson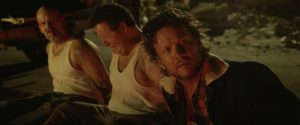 We often tell people the Portland audience is the best you'll find! They are engaged, critical, and true fans of the genre, and it's no wonder that the Audience Choice Award is so coveted! It's not often that this award goes to a feature film. Major kudos to the cast & crew of Happy Hunting for producing a film with a tightly clever story that includes moments of humor in the midst of gripping suspense and dread, topped off with crunchy violence, spot-on casting, and striking desert cinematography!
Official Website, or follow on Facebook or Twitter.
Abby Normal Award (Innovation from Rising Filmmakers): Earworm – by Tara Price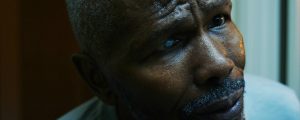 "Earworm" is Tara Price's first foray into directing, and it's a promising start! Inspired by the many people who had never heard the term "earworm," this film is a play on words about a song that gets stuck in a man's head (played by Ernest L. Thomas – "What's Happening"). Between the catchy song, the practical puppet effects, and the ear-piercing sound design, we were squirming in our seats.
Funny Bone Award (for Horror Comedy): Death Metal – by Chris McInroy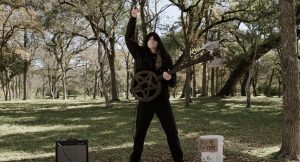 The Funny Bone Award had several contenders ("Last Resort" and "Couples Night" were high on the list), but ultimately, the perfect carnage to humor ratio of "Death Metal" clinched it! We all love some comedy in our horror – it relieves the tension and reminds us that it's not just about the doom and gloom. This hysterically (and intentionally) funny short about Lars, who inherits a cursed guitar (that "riffs to shreds"), had us rolling on the floor and quoting lines long after our first viewing.
Follow on Facebook or Twitter.
Best Bumper Award: Popcorn Slasher – by Steven K. Jackley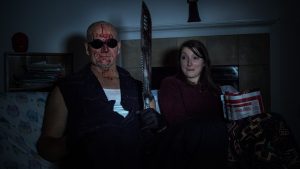 This year we ran a Bumper contest to make our pre-film opening more interesting. Only SIX bumpers made the cut, and the winner was decided by a mix of audience and jury votes. "Popcorn Slasher" is a meta-micro-short, featuring two friends debating the merits of slasher movies. Meanwhile, a slasher patiently waits in the shadows to carry out his role as killer.
Official Website or follow on Facebook or Twitter.
Masque Rouge Award (Best Performance): John Crosthwaite in The Dark Hunger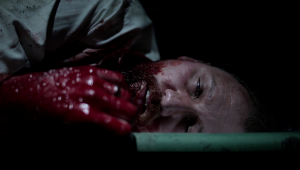 Dead Fred has a lot on his plate, what with being locked up and making corpses disappear for a unscrupulous crime boss. The uninhibited, raw physicality of actor John Crosthwaite's performance sells the illusion so completely, when he lunges, bloody-mouthed and snarling at the camera, you can practically feel his teeth sinking into your flesh and crunching on your bones. The Dark Hunger is a polished gem and Crosthwaite shines in it.
Official Website or follow on Facebook.
Honorable Mentions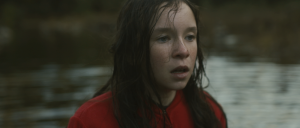 This nightmarish vision was beautifully conceived and filmed as a music video for the band Lui Bei. McKenzie, who wrote and directed "Kurayami no Wa" in 2015 (when she was just 15), delivers another accomplished short film with captivating visuals, and a terrifying mythology. We may never look at manicures in the same way ever again!
Official Website or follow on Facebook and Twitter.
Blackbird – by Charlotte Stente Nielsen & Tim Fellingham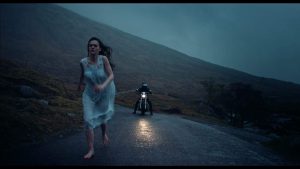 This short film collaboration was praised by our guest judge Richard Stanley for its beautiful cinematography. Excellent use of drone shots help set the mood with a bleak and wild, Scottish landscape. "Blackbird" is an exploration of who we are when we can't remember, calling into question – what is it that makes us good or evil?
Official Website or follow on Facebook.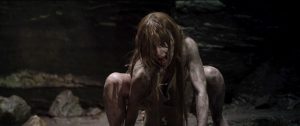 This gut-wrenching story of obsession and longing fits solidly in the realm of the Weird. Between strong performances by Antonietta Bello and Agnese Nano, the beautifully shot cave scenes, and the disturbingly ambiguous cries (was that a cat? or a baby?!), "Others Like You" haunted our dreams for a long time. Guest judge Richard Stanley commented, "If there was a prize for 'best acting' it would go to 'OTHERS LIKE YOU', which I also enjoyed and felt was beautifully photographed…"
Follow on Facebook.
Can I see these films again?
We wish that everyone could easily see all these films on the big screen, but once they've finished their festival circuit it's anyone's guess (we strongly recommend you check out your local horror film festival!). There's a good chance that some of them will be picked up for VOD distribution (check out Amazon Prime and ShudderTV), and others will be viewable via filmmaker websites. If there's a particular film you're interested in seeing again, support and encourage them by following the filmmaker on social media, or find their website and look for news!
We'll be back next year with more of the best in independent horror, and we hope you'll join us!
Brian & Gwen Callahan
P.S. get updates in your inbox and don't miss a thing!