The 2018 Portland Horror Film Festival Awards were presented at the traditional Wrap Party at Sam's Hollywood Billiards after the last screening of the festival on June 16th. The film lineup this year was impressive! From a massive pool of submissions, we had to narrow down the program to 16 hours of films. We had a fantastic bunch of more than 40 short and feature films from all over the world. Making official selections was not an easy task, and choosing the winners was even more difficult. We couldn't have done it without the help of our excellent jury! Here are the award winners:
Goule D'or (Director's Award): Compulsion – by Brian Sepanzyk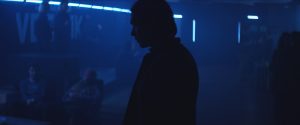 The Goule D'or is reserved for that one standout film that does everything right; script, direction, cinematography, acting, editing, sound design, and overall impact. "Compulsion" checks all the boxes with a carefully lit, superbly acted, beautifully shot, moody piece with a great soundtrack and meticulous sound design that creates an elevated sense of dread. This film takes you along for a ride inside the fragmented psyche of a tormented man whose mental walls are breaking down around him. Sepanzyk weaves a very uncomforting spell that leaves a disturbing afterglow.
See the trailer on Vimeo or Follow on Facebook
Main De Gloire (Special Jury Award): Cecilia– by Liz Tabish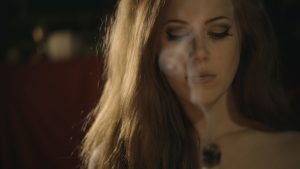 When describing "Cecilia," LUSH is a word that was used many times by our judges and audience alike. Every detail of this short film is rich with flavor, from the font choice in the opening titles to the pitch perfect soundtrack, the costumes and sets, and the performances. Tabish pays loving homage to 60s and 70s psychedelic gothic horror but updates it with a modern sensibility.
Official Website. Follow on Facebook
Bloody Judge Award (Guest Judge's Award): Dead Cool – by Simon Ross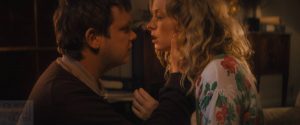 Each year we ask someone who has been long-vested in the horror film industry to be a guest judge. This year we asked Brian Yuzna (Director of Society, Necronomicon: book of the dead, Bride of Re-animator) to review and choose his favorite film. Congratulations to Simon Ross for "Dead Cool"! It is well deserving of this year's Bloody Judge award! This tale of Maurice, the awkward loner, starts off like a romantic comedy. Knowing this is a horror short, we settle in for the twist; only the twist is much darker and more wrenching than we had counted on. Our sympathies turn to horror and disgust as Maurice, through Ross's deft mixing of fantasy and reality, is revealed for the monster he truly is.
Honorable Mentions in this category are Aislinn Clarke's "Childer" and Anna Roller's "Pan."
Follow Dead Cool on Facebook or Twitter
Horde Award (Audience Choice Award): Latched– by Justin Harding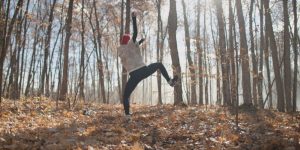 There's a lot to unpack in Justin Harding's "Latched," and it's not hard to see why it is the audience's favorite! First, there's the choreographer/mom earnestly trying out new moves (seen in a number of comical sequences), then there's the adorable toddler she is trying to wean. Add to that the remote locale, the crisp fall scenery, and the horrible fairy-thing that stalks them. It's a match made in horror heaven, and balancing true horror with comedic moments seems to be what Harding does best. (His film "Kookie" took home the Goule D'or and Horde Awards in 2016.) His camera work, character development, and the touches of quirkiness all add up to a very enjoyable viewing experience, punctuated with moments of "ewwwww!"
Official Website or Follow on Facebook
Abby Normal Award (Innovation from Rising Filmmakers): Made You Look – by Kian Doughty & Justin Choma Zimmerman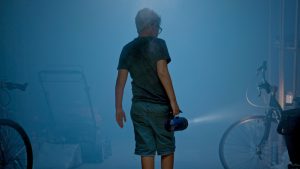 This year's Abby Normal Award goes to a film that has some top notch talent behind it! "Made You Look," is a homegrown short film, featuring the talents of director Justin Zimmerman of Bricker-Down Productions, co-written by Kian Doughty (a 7th grader and acting enthusiast!), and practical effects by renowned monster-maker Chris Walas (Gremlins, The Fly). This is Kian's first film and he co-wrote and starred in it. We expect to see more wonderful things from this budding filmmaker, he's definitely one to watch!
Follow Bricker-Down Productions on Facebook
Funny Bone Award (for Horror Comedy): Brace Face – by Jonathan Holbrook & Elena Stecca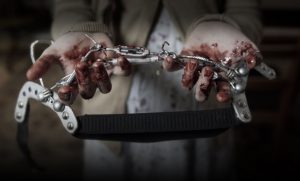 Elena Stecca and Jonathan Holbrook co-directed "Brace Face," featuring the formidable acting talents of Dave Shecter and Michelle Stahl. In this quirky horror-comedy, a girl with weird head gear is bullied by the neighborhood hooligans. Her mother and father, played by Dave Shecter in 1940s browline glasses, and Michelle Stahl as a devoted but cheeky wife, are loathe to stand by and watch their baby girl be abused. The setup takes a stereotypical Southern Baptist home and turns it on its head. From start to finish, the great comedic timing and visuals are a sustained build to a rather bloody punchline and an ending that will make you squirm a little in your seat. Michelle Stahl shines as a saccharine-sweet mother with a libido that belies her prim and proper exterior. "Frisky!"
Official Website or Follow on Twitter and Facebook
Best Bumper Award: Hand Cut – by Matthew Robinson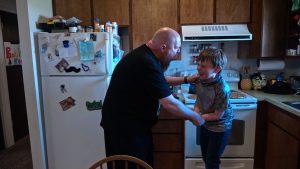 Each year we challenge filmmakers to make a festival bumper, and we're always surprised by the entries. We find the ones that are created specifically for the challenge are the most effective, and "Hand Cut" fits that bill. It does double duty as a practical effects test (for a longer piece that we look forward to seeing!), but is well constructed as an appetizer for the short film block it introduced. The combination of the realistic looking cut on the son's hand, the physical humor, and ending punchline made this an audience favorite. We especially liked the little touch of the Portland Horror Film Festival logo magnet on the fridge!
Official Website or Follow on Facebook
Masque Rouge Award (Best Performance): Todd A. Robinson in Big Legend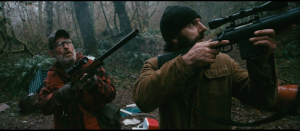 We created this award last year due to a spectacularly visceral performance (John Crosthwaite in "The Dark Hunger"). This year we felt Todd A. Robinson's performance in Big Legend was deserving of the Masque Rouge. This is a film that rests heavily on the performances of the actors, and Robinson delivers in spades as the seasoned, bigfoot savvy hunter Eli Verunde. He is a perfect foil to Kevin Makely's rugged and skeptical Tyler Laird, and the men's fast camaraderie adds depth and humanity to the overall plot. We recommend seeing this film (on DVD or streaming) as soon as it's available on July 3rd!
Follow Todd on Twitter. Follow Big Legend on Facebook
Caméra de Sang Award (for Best Overall Feature): Puppet Master: The Littlest Reich – by Sonny Laguna & Tommy Wiklund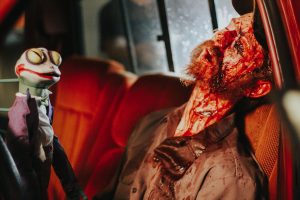 Out of left field comes the horror sensation of the year – Puppet Master: The Littlest Reich! This brand new re-imagining of the original Full Moon Pictures franchise is brought to us by producer Dallas Sonnier (Bone Tomahawk, Fangoria), screenwriter S. Craig Zahler (Brawl in Cellblock 99, Bone Tomahawk), and directors Sonny Laguna and Tommy Wiklund (We Are Monsters). It is bold, beautiful, and BLOODY. Known for his comedic and often flamboyant characters, Thomas Lennon (Reno 911, The Santa Clarita Diet) turns in a quietly nuanced performance as Edgar, that is both sensitive and relatable. He plays a recently divorced comic book writer whose discovery of a collectible Toulon puppet ignites the action. Jenny Pellicer and Nelson Franklin are fantastic in their supporting roles as girlfriend and best friend. Barbara Crampton and Michael Paré are a pleasure to watch as deadpan cops, and Charlyne Yi adds to the fun as Franklin's nerdy love interest. With a smart script, a dynamic soundtrack by Fabio Frizzi and Richard Band, the most gory, inventive, over the top kill scenes we have seen in a long time, and a generous helping of social commentary, this film soundly earns the award for Best Overall Feature.
Can I See These Films?
Good news! Big Legend is currently available for pre-order (DVD) and will be out on video on demand streaming sites July 3rd. Puppet Master: The Littlest Reich will have a theatrical release starting August 17th. The rest of these films are still doing the festival circuit, and may end up on the filmmaker's film page or on YouTube later on. (The best way to see short films like these on a big screen is to attend film festivals!)