In 2016, we received a beautiful one sheet from the Asylum of Satan (1972) along with a letter describing the hows, whos, and whats of the production. Pat Kelly, who went to college with my dad, had found the one sheet when cleaning out a storage space. He sent it to my parents and they sent it to us, knowing that we love that kind of rare and odd memorabilia. It was a fascinating read, and we thought it should be shared with a larger audience.
Last year, we decided to finally go ahead with our long-talked of Satanic Panic night and invited Pat to come present the film and share behind the scenes stories. Luckily for us, he was game, and the audience was charmed! We are thrilled that he has agreed to join us once again, this time for a special screening of Abby (1974).
Meet J. Patrick Kelly III, our special guest! Pat sparked the inspiration for us to show William Girdler's inaugural film last year as part of our first Satanic Panic event as a lead up to Portland Horror Film Festival. He joins us once more for an evening of Satanic Panic 2, this May 15th at the Hollywood Theatre.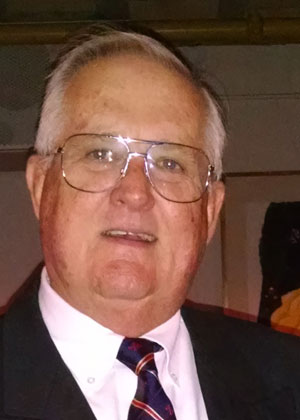 J. Patrick Kelly III, was born in Youngstown,Ohio, but has lived all over the country during his seven plus decades. Early in his career, Pat was both the brother-in-law and business partner of Director William Girdler. Together they, along with several other Louisville, Kentucky associates, formed a commercial production house that later produced motion pictures in addition to numerous commercials and documentaries. During the 1970s, Pat ran the business end of their company as Vice President and also worked on a number of William Girdler's motion pictures in varying capacities, ranging from Producer to Production Manager, Co-Author, Assistant Director and Location Manager. After Girdler's death in a helicopter crash in the Philippines, Kelly disposed of his interest in the film company, Mid-America Pictures.

He now resides in Hamilton, Texas with his wife Gwen. Pat holds a BS degree in Commerce and a MBA degree in Business Administration. He has worked in private sector in the computer business, as a Legal Administrator, and in the motion picture industry. He also served in Homeland Security with Customs and Border Protection for 30 years. In retirement, he served as Mayor of Hamilton, Texas. He is an FAA licensed Aircraft Pilot with Commercial, Instrument, Single and Multi-engine ratings. He also holds a General Class, Amateur Radio Operator License, FCC Licensed which he operates asW7JPK, out of Hamilton, Texas.

When you meet him, shake his hand and realize you owe him more thanks than you know! Pat was the production designer for Abby (1974), 'Sheba, Baby' (1975), and Project: Kill (1976), the production manager for Three on a Meathook (1972), Asylum of Satan (1972), Project: Kill (1976), and Grizzly (1976), the AD on Project: Kill and Grizzly, and co-wrote and produced Asylum of Satan.

Tickets are on sale now for an evening of Satanic Panic 2, May 15th at the Hollywood Theatre.

Buy Tickets